Check Out jQuery Trickshots - Our First Book!
I am happy to announce the release of our first ebook - jQuery Trickshots. Inside it, you will find a collection of 100 kickass tips and tricks for working with jQuery that I have discovered over the years as a JavaScript developer and author for Tutorialzine.
jQuery needs no introduction - it is the most popular JavaScript library in use today, and it drives most of the tutorials on this site. It gives web developers a great deal of power by abstracting away the complex tasks of traversing the DOM, creating elements, handling events and more, while at the same time leveling the play field by working around browser differences.
Here are some of the things that you will read about in jQuery Trickshots:
DOM Manipulation: Tips on chaining, organizing your code, using the power of the DOM to your advantage.
Performance: Learn how to optimize your jQuery code and how to squeeze every bit of performance.
Events: A collection of tricks on working with events, making your code work on touch devices, chaining event handlers and more.
AJAX: Tips on working with deferreds, useful third party APIs, scraping HTML content and more.
Master Class: Making use of little-known jQuery methods, applying old-school JavaScript tricks, isolating code blocks and extending jQuery.
Plugins: A collection of must-know plugins for modern web apps, with examples and live code.
To get a better taste of the book, go ahead and download the AJAX chapter for free!
jQuery Trickshots comes in PDF, Epub and Mobi so you can read it on all your devices. To make the package complete, there are 100 HTML5 & jQuery examples that you can edit and run in your browser!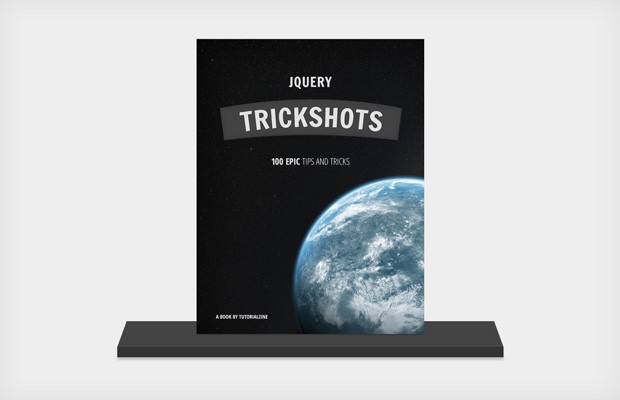 The Giveaway
To celebrate the release, we are offering three copies of the book for free, to three lucky Tutorialzine readers. To participate do the following:
Tweet about this post (click);
Leave a comment below, saying what you'd like our next book to be about.
The winners will be randomly chosen on May 7th, 2013, and announced with an update to this post. Good luck!
The winners have been chosen! And they are:
They have been contacted and have been sent their prizes. Congratulations!
Bootstrap Studio
The revolutionary web design tool for creating responsive websites and apps.
Learn more